Cambridge Rehabilitation & Healthcare Center
>
Events
>
Oct. 7: Cambridge Rehabilitation & Healthcare Center to Host American Red Cross Blood Drive
Oct. 7: Cambridge Rehabilitation & Healthcare Center to Host American Red Cross Blood Drive
All Blood Types Needed
In support of the American Red Cross and the local community, Cambridge Rehabilitation & Healthcare Center in Moorestown will host a Blood Drive on Friday, Oct. 7, from noon to 5 p.m. Cambridge is located at 255 E. Main Street; the Blood Drive will take place at the center's chapel.
All blood types are urgently needed, and appointments are required. To schedule an appointment, please visit RedCrossBlood.org and enter CambridgeMoorestown, or call 1-800-RED CROSS (1-800-733-2767). In October, the Red Cross is offering a five-dollar gift card to a blood donor's merchant of choice.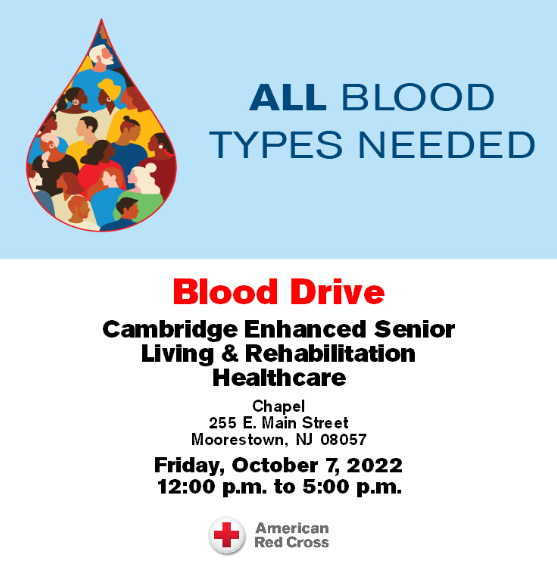 To learn more please visit ThePatch.com to see details in their entirety.