Cambridge Rehabilitation & Healthcare Center
>
Uncategorized
>
Introducing Chronic Illness Support Program
Introducing Chronic Illness Support Program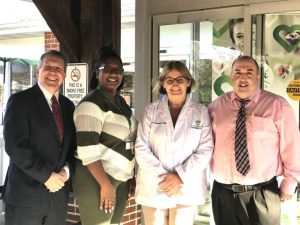 We have introduced a new, comprehensive chronic illness support model, partnering with Samaritan Palliative Care to integrate palliative care, pastoral support and other services with its specialized clinical programming. Located at 255 E. Main St., our 200-bed skilled nursing facility provides post-hospital care, short-term rehab and long-term residential care.
The palliative care component of Cambridge's chronic illness support program is administered by a trained team of doctors, nurses and specialists and focuses on providing emotional and spiritual support to help relieve symptoms and stress. The goal is to enhance quality of life for patients and their loved ones. The overall initiative—which is specifically supporting Cambridge's cardiac care and neuro recovery programs—also weaves in disease-specific education and health coaching, multi-specialist led and coordinated care, full-time respiratory therapy, social services support and connections to community resources and life enrichment activities.
Committed to serving as a health care resource for the community, we have established a resource library of physician-curated content, addressing many topics of interest for families of patients and the larger community.
We share a 14-acre campus with Cambridge Enhanced Senior Living, an assisted living community featuring a memory care program appropriate for individuals in the earlier stages of dementia or Alzheimer's.
To learn more on this topic please visit Senior Living News.